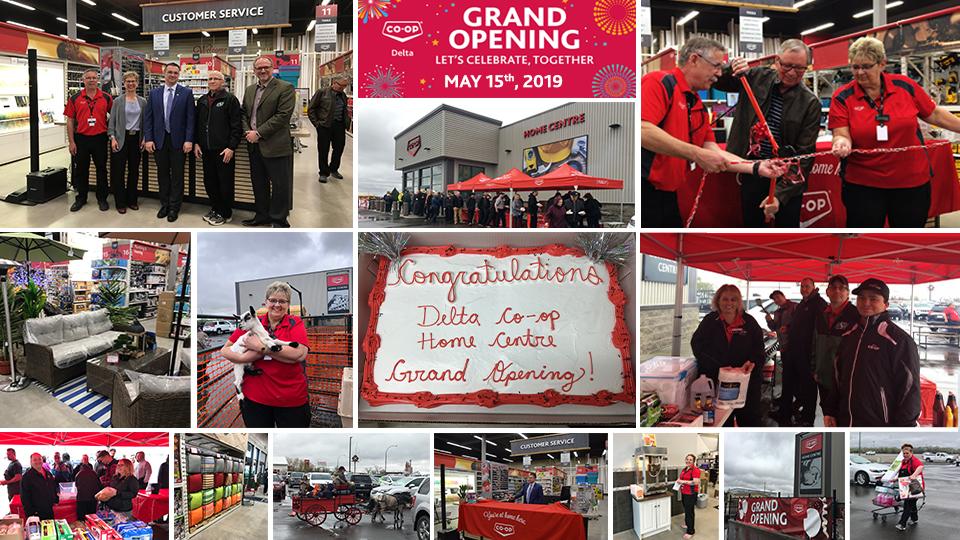 Home Centre Grand Opening
April 15, 2019
Delta Co-op held the Grand Opening for their new Unity Home Centre on May 15th, 2019. Though rainy, staff, special guests and members enjoyed special sales, a free BBQ, petting zoo, store tours and more at the event. The ribbon cutting took place at 11:30am where our current General Manager, Andrew Parrott, welcomed and thanked everyone for making the project a success. Greetings were also shared by Board Vice-President, Shawna Hammer, Mayor of Unity, His Worship Ben Weber, Home Centre Manager, Peter Keller and Home and Building Solutions Marketing Manager from FCL, Don Ryan. Past General Manager, Joe Reddekopp had the honour of cutting the 'ribbon' to officially open the location.
Staff from all parts of the Delta Co-op organization came out to help the Home Centre team with this special event. From cleaning up the yard ahead of time to helping out at the BBQ the day of the event. It was great to see our team working together and supporting the Home Centre team kick off this new chapter. Thank you to all who volunteered and came out to the event.
Our Home Centre team is very excited to show you their new 'home.' It was built with our members in mind and we hope you love it as much as we do.