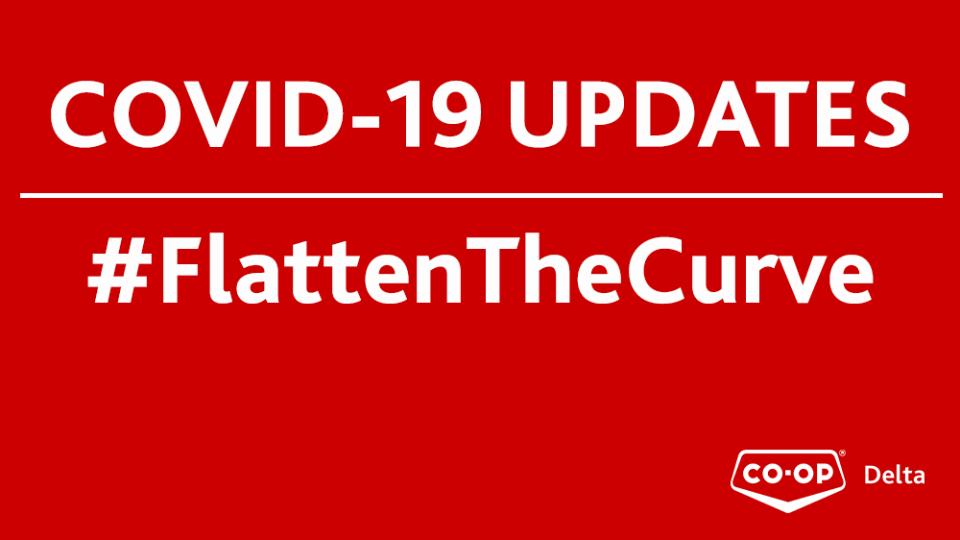 COVID-19 UPDATES
March 18, 2020
Please keep checking this page for regular updates on Delta Co-op's response to the COVID-19 crisis:
July 20, 2020 — Following provincial health guidelines, Delta Co-op is strongly recommending members visiting any of our locations wear a mask for the protection of yourself as well as others. Members can expect to see more of our staff members wearing masks.

Mar. 25, 2020 — Plexi-Glass screens have been installed at all till counters at all of our locations to help enhance social distancing. We appreciate the effort of staff and members to work together as we continue to make changes to keep everyone safe.

ADMINISTRATION OFFICE
May 2020 — Adminstration Office opens back up to the public with increased cleaning, barriers and safety plexi-glass in
place.
Mar. 18, 2020 — Our Administration Office has been closed to public to reduce exposure. Payments on accounts can be made through online banking, by mailing in a cheque or by contacting your financial institution. If you need the balance on your account please do not hesitate to contact the office at 306-228-2662, we are still busy working!

FOOD STORES/PHARMACIES
July 20, 2020 — A new online grocery order form has been launched for delivery and pick-up. The new form is embedded directly on our website and offers categories to make ordering easier for members and our staff. All ordering details are the same as before. Deliveries are still free.
May 4, 2020 — One way aisle markers are installed to help aid in keeping proper social distancing throughout the store. In Macklin Pharmacy no more than one person will be permitted in an aisle at one time.
Apr. 1, 2020 — Online order forms for FREE Grocery Delivery or Parking Lot Pick-Up now available. Visit https://bit.ly/2UyxTvi to order. Delivery available Monday to Friday (orders must be received before Noon for same day delivery), Parking lot pick-up available Monday to Saturday (orders must be received by 5:00pm). Once you submit the form our team will contact you when the order is ready if it is for pick-up.
Mar. 24, 2020 — Our Pharmacies will no longer be accepting/handling prescription vials, used containers for SHARP objects, or taking returned meds for disposal. Please make sure your health care professionals are faxing prescriptions or you are calling in for refills already on file. At our Food Stores you may see plexi glass barriers being installed at our tills over the next few days, this is to remind and help assist in social distancing.
Mar. 23, 2020 — Unity Food Store has closed the hot food bar and soup station at their location. Pre-made sandwiches, salads, etc. will still be available. Members are asked to have prescriptions faxed and to call-in for refills versus coming into the Pharmacies.
Mar. 20, 2020 — Delivery service for grocery and pharmacy will not be available on weekends. Parking lot can still be arranged at our food store locations.
Mar. 19, 2020 — We are asking all members to REFRAIN FROM USING REUSABLE BAGS at this time. We will be waiving the 5 cent fee for plastic bags until further notice as this is a more hygienic option for our members and staff. PHARMACIES can only refill prescriptions a maximum of 5 days before they are due to run out. To find out more about other prescription protocols during this pandemic please visit saskatchewan.ca and visit their COVID-19 section. Also, as of today we are putting a LIMIT ON TYLENOL products, 1 per person. This is to ensure everyone in the community has access to these items.

Mar. 18, 2020 — Members may notice limits in place on in-demand products at our food stores. This action has been taken to make sure ALL of our community members have access to these products and to help members avoid hoarding behaviours in this stressful time.

Cleaning protocols have been increased at all food stores including cart sanitation.

Mar. 16, 2020 — Delivery Service for groceries/prescriptions is now available to members within town limits and we are also offering parking lot pick up to anyone from out of town to utilize. This service is especially meant to help those who are experiencing symptoms, under quarantine or at high risk of infection. The less traffic the better so we encourage all to make use of this service. To arrange deliveries call:
MACKLIN — 306-753-2221
MACKLIN PHARMACY — 306-753-2033
UNITY — 306-228-3031
UNITY PHARMACY — 306-228-2629
WILKIE — 306-843-2655

GAS BARS
Mar. 24, 2020 — We will be limiting coffee toppings/additives to only those items that are packaged individually and limiting our coffee selections.

Mar. 18, 2020 — We are encouraging all utilizing our Gas Bars to use our pay-at-the-pump options OR Cardlock locations to limit exposure. We have increased cleaning protocols specifically at these locations to ensure the health and safety of all members and staff.

HOME CENTRES/AGRO
July 20, 2020 — A new online order form has been launched for delivery and pick-up for all of our Home Centre locations. The new form is embedded directly on our website, all ordering details are the same as before.

May 4, 2020 — No more than one person will be allowed in an aisle at one time to make sure proper social distancing is maintained at all times in the location. Also, online ordering is now available for the Unity Home Centre.
Apr. 3, 2020 — Reminder to all members that our Home Centres are open regular hours and offering free delivery service.
Mar. 24, 2020 — Members visiting our Agro site in Unity will be asked to stay at the door while our staff collect items you may need. We would appreciate if you need items/deliveries that you CALL AHEAD so we can have it ready to go. You will only be allowed into the building further to pay. If at all possible we ask that you do not visit our location if business can be done over the phone. At our Home Centre locations we will be increasing signage to remind everyone DO NOT TOUCH PRODUCTS YOU DO NOT INTEND TO BUY. This is for the health and safety of everyone.

Mar. 18, 2020 — Our Home Centre and Agro locations are asking that all non-essential sales/service personnel refrain from entering the locations until further notice and ask all Truck Drivers making deliveries to stay in their vehicles as staff unload any freight. MEMBERS, we are still open for business and able to serve you we just ask that if you are experiencing symptoms, are under quarantine or at high risk of infection that you do not visit the store.
All Business Hours remain the same as usual unless outlined differently in the notes above.

If at all possible, limit the number of people going out to collect essential items from your household. Lowering exposure is our best chance to #FlattenTheCurve and stop the spread of this disease.
There are no featured stories at this time.