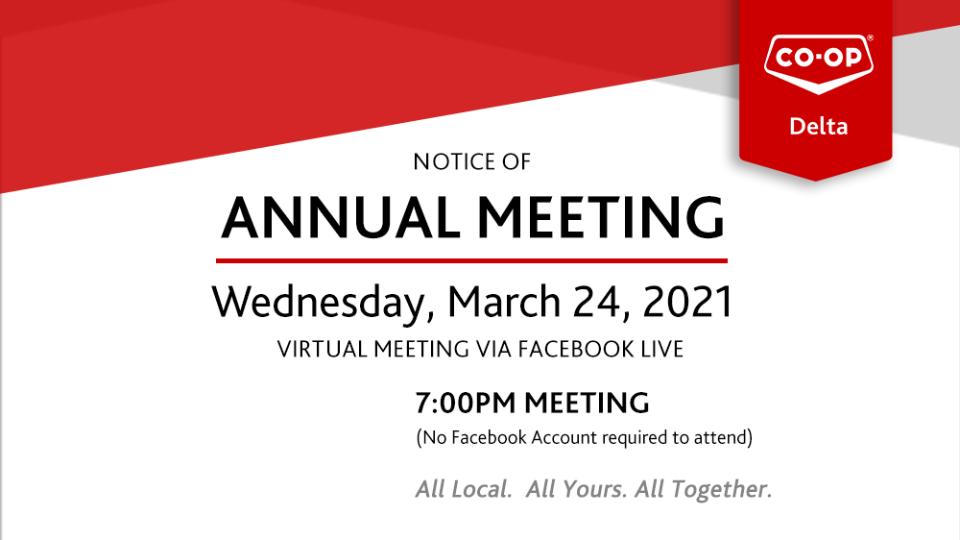 Annual General Meeting
February 16, 2021
Every Delta Co-op member is an owner and you should have a say in your business. That's why we are inviting all members to the annual meeting to discuss and shape your Co-op. We hope you will join us for a review of the 2020 year and a look at what's to come in 2021. As COVID-19 still continues to keep us from getting together, we will once again be hosting this years' meeting in a virtual format, via Facebook Live. A Facebook account is not required to participate in the event. Options for texting-in attendance and voting will be outlined during the presentation.
The annual report is available in PDF form below. If you would like a printed copy, please call the Administration Office at 306-228-2662 and we would be happy to get one to you.
Questions for the Annual Meeting may be submitted ahead of time by sending an email to kelsie.valliere@delta.crs. For those not familiar with the Facebook Live platform or who are unable to attend the meeting, a recorded copy of the meeting will be available online following the event.