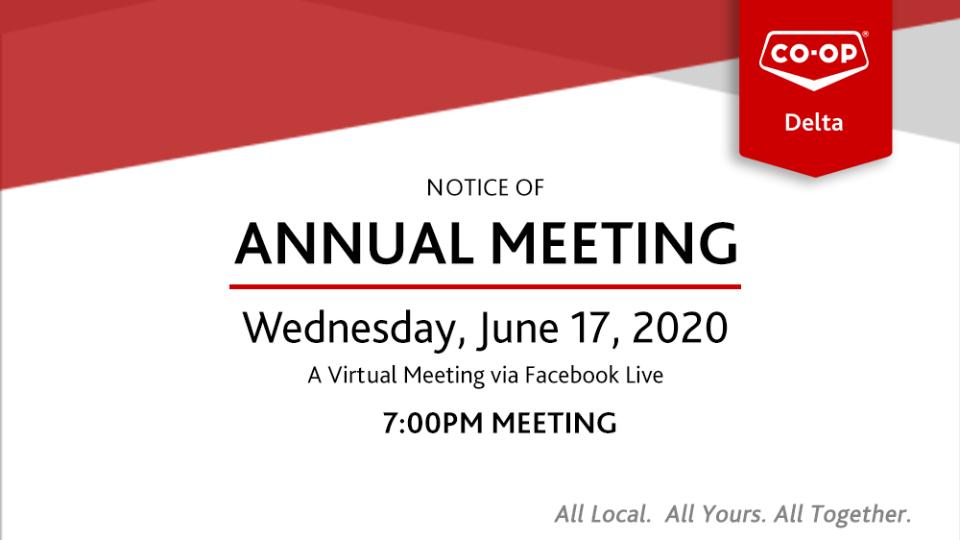 2019 Annual Meeting
February 24, 2020
The 2019 Annual General Meeting has been rescheduled for June 17, 2020. This will be a virtual meeting and take place via Facebook Live at 7:00pm at www.facebook.com/deltacoopltd.
Every Delta Co-op member is an owner and you should have a say in your business. That's why we are inviting all members to the annual meeting to discuss and shape your Co-op. We hope you will join us for a review of the 2019 year and a look at what's to come in 2020. In the meantime please help us Flatten The Curve and keep you and your family at home and healthy as much as possible.
To view the annual report please follow the link: https://www.flipsnack.com/deltacoop/delta-co-op-2019-annual-report.html
Questions for the Annual Meeting may be submitted ahead of time by sending an email to kelsie.valliere@delta.crs for those not familiar with the Facebook Live platform or who are unable to attend the meeting. A recorded copy of the meeting will be available online following the event.